Mean and Dangerous Adventure $230.00
The cave tubing, zip line, and atv adventure is an express combo tour that is a full day tour leaving Belize City at 8:00 am. This adventure tour is designed to last approximately 6 hours. It includes a 50 minutes drive to the Belize Cave Branch Reserve. Upon your arrival at Cave Branch Reserve you will be issued with headlamps, inner tubes, and life vests for the cave tubing part of the tour.
After you have been issued with your gears for the cave tubing tour, we will start a 20 minutes hike through the rain forest to the caves. As we hike through the rain forest, we will be doing presentations on Medicinal Plants, Belize Mayan History, Use Of The Cave Systems to the Maya, and presentations on Belize Cave Systems.
The cave tubing tour last approximately an hour to an hour and a half. After the cave tubing tour we will drive 5 minutes to the zip line canopy tour site. Upon our arrival arrival at the zip line, you will be assisted with your gears for the zip line canopy tour. The zip line canopy tours approximately an hour.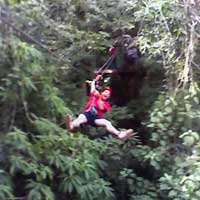 After the zip line tour we will drive 10 minutes to the atv tour site. Upon our arrival you will be instructed about what to and not to do. You will be doing high speed trekking through the rain forest for approximately an hour. After the atv you will be dropped off at your hotel.
This tour is offered only on the following days: Monday, Friday, Saturday, and Sunday. If you would like to do this tour outside of the days mentioned you will need to inform us in advance.
$180.00 per/ person